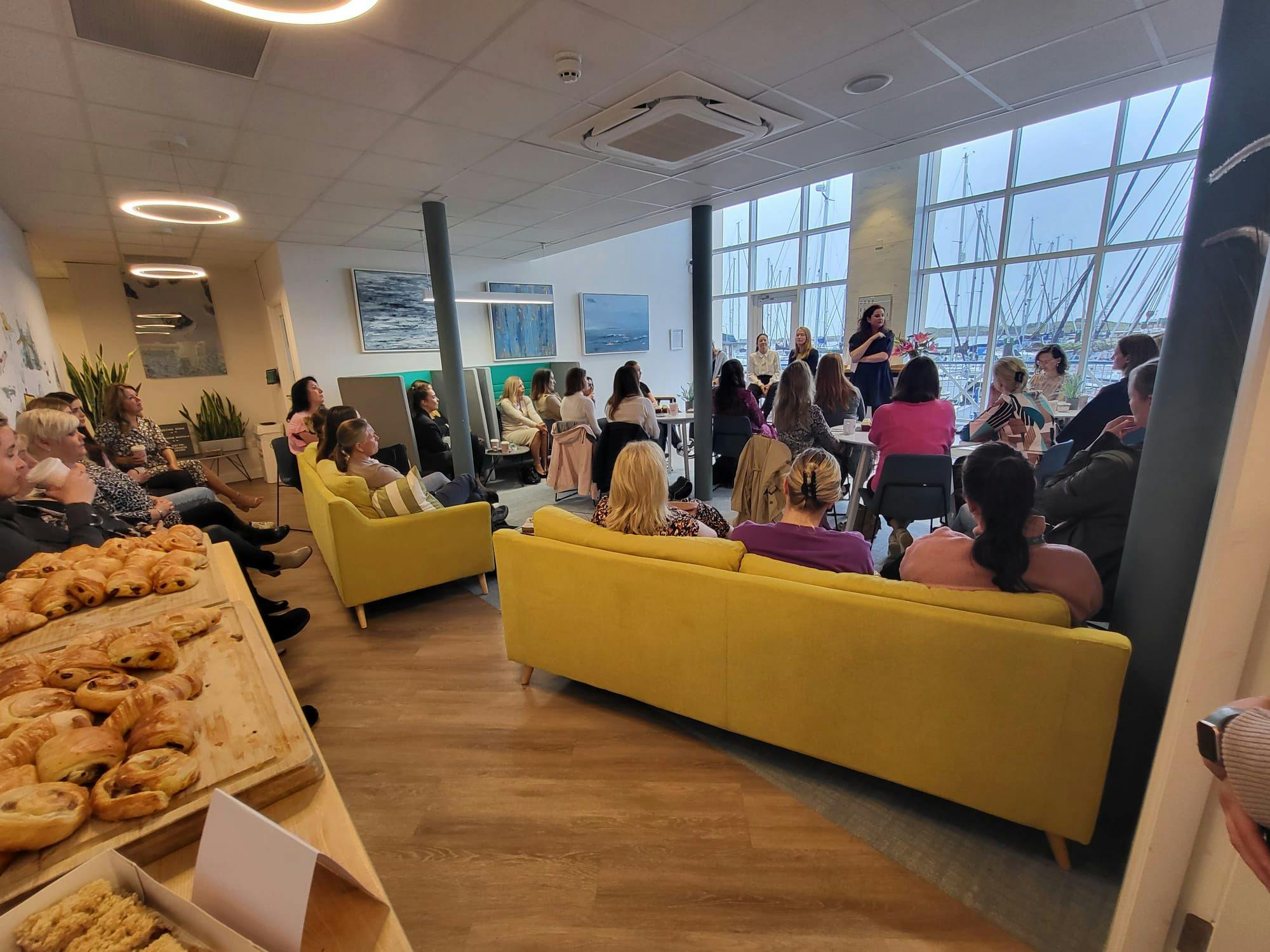 2022-10-11
On September 22nd we launched our Autumn Work Well Program with our Women's View event.
On Thursday 22nd September we held our first women's networking event. The theme was Women's View, a gathering of local people - meeting to discuss female entrepreneurship and experience in the workplace. It was the launch of our Autumn Work Well Program of events.  
Over 40 people attended the event to hear from four local speakers; Deirdre Carroll from Fingal's Local Enterprise Office, Michelle O'Keeffe from Platform55, Ciara Garvan from WorkJuggle and Carley Quigley from Grey Dog. There was breakfast & coffees from Puck Burger and treats from Vera's Sweet Creations. 
Deirdre Carroll spoke about the Local Enterprise Office in Fingal and the supports available to local businesses and startups. Deirdre gave more detail on grants & mentoring programmes and answered questions on what is available to help. Deirdre spoke about her own career in tech and how she had recently made a move to the LEO. 
Deirdre Carroll from Fingal's Local Enterprise Office, Michelle O'Keeffe from Platform55, Ciara Garvan from Work Juggle and Carley Quigley from Grey Dog.
Michelle O'Keeffe told us about her entrepreneur experience from the beginning of her career to her current role in Platform 55, creating more inclusive workplaces for parents. Michelle spoke about her own experience of working while having children, how the 9-5 doesn't always work and ways we can all be more inclusive in the workplace.  
Ciara Garvan from WorkJuggle spoke about how WorkJuggle was born, how things changed when her children were born and the importance of remote work today. Ciara included an interactive quiz on workplace equality, with answers surprising us all!  
Carley Quigley spoke about her company, Grey Dog, and how it has grown over the past 12 months. Carley shared details of their internal mentoring program and how it connects different employees across the whole team.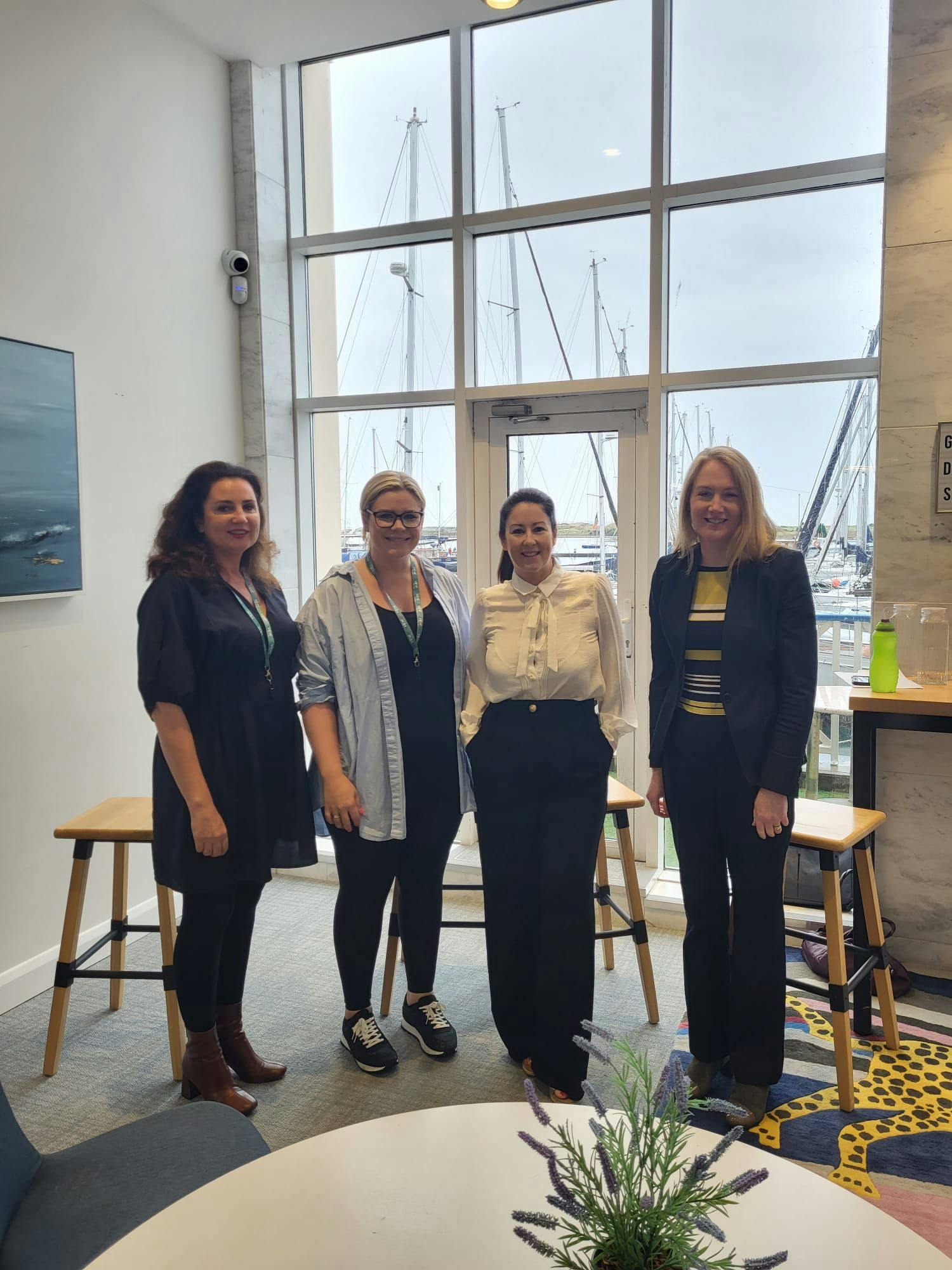 Following Deirdre, Michelle, Ciara and Carley sharing their experiences there was a short questions and answers session. Members of the audience asked questions on how to grow their business, what & when to outsource and asked further details on all of the speakers' businesses. There was a chance to network before and after the session, and a couple of people stayed on to work from a hot desk in The View for the day.  
Overall, it was a very inspiring morning, bringing together members of the local community to discuss the trials, tribulations & triumphs of entrepreneurial females. We are already looking forward to the next event. A massive thank you to Deirdre Carroll, Michelle O'Keeffe, Ciara Garvan and Carley Quigley for talking time out to speak and for sharing their personal stories. Check out their brilliant companies' details below.  
Thank you also to Aoibheann from Puck Burger and Vera from Vera's Sweet Creations for providing the coffee, breakfast & treats!  
We offer the ability to book a daily hotdesk or meeting room instantly online. If you would like to subscribe to a recurring membership or an office plan, you can reach out for a quote
Get In Touch
We've created The View as we truly believe work is changing. Work well in the ideally located, picturesque village of Malahide overlooking breathtaking views of Malahide Marina and Lambay Island.
Contact our manager Aoife on 01-845-6179.